Online Service : The AFP Finance Center's Web-Page
AFP FINANCE CENTER WEBPAGE

By
: LT BIENVENIDO P PELONIA JR PN
Today our way of life is very much changing, with the introduction of new technology and other technological innovations the most complicated and intricate process becomes a simple and easy procedure. Since the dawn of time man has been constantly seeking ways to improve his way of living from the invention of the wheel to the computers, one goal is to be established and that is how to simplify things for his own convenience.
When I assumed post as the Financial Management Information Systems (FMIS) Officer of the AFP Finance Center one question has been constantly pinching my mind, will I be able to contribute and effectively perform in my new assignment? As my official unit order came in writing I then realized what a gargauntum task my new assignment has to offer. Still with the trust and confidence from my former boss then COMMODORE CORNELIO A DELA CRUZ JR AFP, 21st Chief AFP Finance Center I just took it as a challenge and will try to perform with the best of my abilities. In my understanding in the different operation of the AFP Finance Center, particularly on the Pension Cleansing Operation I realized that enhancement in the Information System of the Center is very much important. With my experience with the different Provincial Pension Caravan I had a personal exposure to the numerous concerns of our AFP Pensioners. As I see myself as an AFP pensioner in the future, I realized that improvement should be made in the delivery of service to our fellow comrades who gave their utmost dedication for the AFP institution. With instruction from our new and supportive Chief, COLONEL ROLANDO V PICAR INF(GSC)PA, 22nd Chief, AFP Finance Center to facilitate measures to enhance system of services of this Center, FMIS Branch had prioritized the development of IT system under our mission and function. As one of the many problems that were presented by pensioners during different scheduled provincial sorties, is the constant concerned on the information with regard to the status of their pension. In fact, mis-information and lack of knowledge with the AFP Pension System is one of the reason why fixers and unscrupulous individuals able to thrive and victimize our innocent pensioners. They cheated our pensioners for financial advantage. Before, some of the pensioners particularly those residing in the provinces to have a glimpse of their pension details they have to travel far distances to Manila at Camp Emilio Aguinaldo to have a printed copy of their Monthly Pension others, have to write letter request from this Center and wait for the postal delivery for a copy of said document. With the complaints of financial burden of sending letters and specially those bed-ridden pensioners who have difficulty to travel our tasked is how to provide such solution to the problem and reach out to all pensioners even those in residence of other countries for they too have spend considerable amount of money just to send letter request from this Center.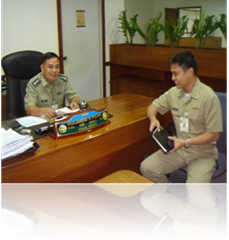 As I study the problem, I realized that the solution have already been introduced and existing with the system of the different commercial banking institution. Similar to the services provided by our local banks, E-commerce is the concept of such system they have the "Online" or Internet Banking concept which provides data on the status of their bank account. The process is to deploy statement of account in the internet for viewing purposes of each member for them to monitor their account be it on withdrawals and deposit, it is an updated run time status of account transactions. To date, most all private commercial banks have already been introducing such system into their services offered features. As I presented the idea to our Chief his support was immediately extended, together with his constant motivation we were encouraged to facilitate the immediate requirements of adopting the said system. The idea is to deploy in the World Wide Web (Internet) financial information of personnel under our paying jurisdiction which is the Pay-slip Data of the Active Technical Administrative Services (TAS), Civilian Personnel of the GHQ, AFP and the Monthly Pension Details information of the AFP Pensioners. With this set-up every personnel under our payroll jurisdiction can be able to access the status of their monthly earnings/pension, net pension, deductions, gross income, and net income twenty-four (24) hours a day seven (7) days a week. Even TAS personnel and AFP Pensioners outside the country can now be able to have a readily available data to be printed for their information and ready reference. AFP Finance Center can now reach Active Technical Service, GHQ Civilian Personnel and AFP Retirees with ease to provide them the best fiscal service they deserved.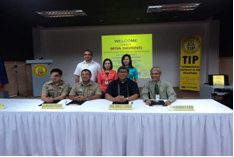 As we laid down the initial phase on the realization of our project much study and systems analysis on our present set-up had been taken into consideration. As ideas and suggestions pour-in we have recognized the need for a webpage with features as earlier presented. With much consideration, I realized that one of the most important components which is considered our hindrance to translate our ideas into a doable project is the lack of necessary skilled personnel for the job. Developing a Webpage with features and capability structured to our desire is a no easy task, as I search for a means to start the project I then realized that this would entail getting skilled personnel to craft the AFP Finance Center's primary medium of communication to the general public particularly our clientele. Such necessary skilled people is limited within the AFP organization since most of our personnel are not that well versed with computers if so others don't have that enough training for such requirements. Considering outsourcing the project to a private web maker would surely require large amount of funding and would take some considerable time to start. As the clamor from pensioners and the need to develop such system to lessen mis-information if not eradicate the confusion from pensioners as to their pension receivables arises the urgency for our propose project is badly needed.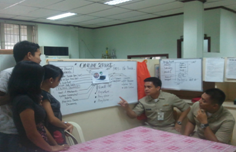 To be able to have the necessary people for the right job and to accomplished our desired solution with zero expense from the AFP I then realize one option to consider, that is the On-the-Job (OJT) experience being offered by the AFP Finance Center to college students for their curriculum requirements for graduation. However, we had accepted OJT's before and mostly IT students but since Information Systems has so many field of interest Web making capability is not that available to all students wanting to have a training experience with this Center. Hence, our priority therefore is to look for such students who possess the required talent but again our contention is that most of these students prefer private companies where an ample amount of financial allowances is given.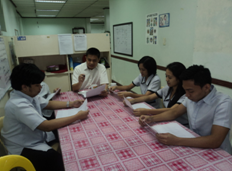 With meager budget allocation solely for operational purposes, this Center cannot offer such similar incentives however, with our daily operation we had encourage interested IT students that their exposure from our Office would be a good learning experience which they can use after they graduate. To surely get the right knowledgeable personnel, I then presented to our supportive Chief the idea for a formal collaborative training with different IT Institutions. His support was then again extended and immediate coordination with the different IT Schools near Camp to have a MOA for a collaborative education was facilitated.
After the formal signing I then presented to the School IT department head the needed skills requirements for our OJT experience. With compliance from the Schools they sent to us students who are knowledgeable in Webdesign and Computer Programming, initial study and system structure was then conducted and immediate development was undertaken. Currently, our intention of deploying the Payslip information of personnel under our payroll in the World Wide Web (WWW.) would be a first undertaking of any AFP Finance unit hence, we are then careful and to consider security settings in the design structure so as not to divulge confidential information to unauthorized individuals. In establishing such Webpage our aimed is to have a medium to deliver our services to our increasing client the AFP Pensioners and Active Personnel since the Web is now considered as the oasis of information we intend to be at pace and take advantage with this technological development.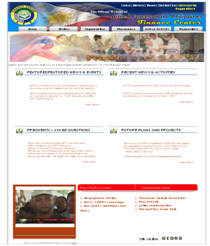 In our Website features we will have a continuous service to inform our clientele regarding innovations and program of the Center, our objective is to reach out all concern for them to be aware that AFP Finance Center is now online to serve. As our motto of "delivering fiscal service to personnel with the rightful payment for the right person with correct transactions" this system would be an effective tool in attaining our vision and mission. Our Website shall be a form of gauge on our part for continuous development and improvement since one of its features is that visitors can be able to transmit questions related to their financial concerns; give recommendations and suggestions; comments; as well as fora for this Center to assess the things and areas that needs enhancement. It will serve also as a tool for our area Finance Servicing Units (FSU's) our sub-operating units strategically co-located with the different Area Commands in the country to further strengthen their capability in our Pension Cleansing activity. Communication linkages between FSU's and other sub-units would also be improve making each Offices more effective to their mandate in delivering services in the support and accomplishment of the AFP Finance Center's mission.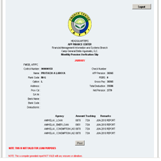 Once the system is running and operating we will have a venue to disseminate the program of the Center, its thrust, objectives and activities which will affect every personnel transacting financial claims at this Center specially AFP pensioners. Visitors on our website can have a brief information on the AFPFC historical creation as a unit, pictures on the different AFPFC related activity as well as the capability to view his or her respective payslip and pension details information. By just registering their account by providing information like name and bank account number they will be required to provide their personal log-in name together with security password and once successfully registered they can now view and print their monthly pay data information for reference purposes.
For future registration the log-in name and password that they have provided shall then be used primarily for access making the system secured against unauthorized access. Our system enhancement shall be a continuous development as we also intend to deploy the historical account of payslip data and pension details including deductions to record, monitor, and capture every loan and basic deductions. As experienced before, fake printed copy of pension details from this Center in exchange of money can be provided by fixers and dishonest individuals thereby creating confusion in the loan system which resulted in multiple loans from our pensioners which exceeded their capability to pay. As a result, resultant account was rampant as some pensioners without limitations applied for loans which beyond their capacity to pay and with interest rate brought about by surcharges bloating every month there is no way our unwary pensioners can settle their loans. With this system our loan monitoring capability together with the PELVAMS system shall be improved to safeguard our pensioners in their uncontrollable habit of loan application which in the long run considered dis-advantageous on their part. Likewise, considerable amount of funds is disbursed due to printing of pay data and payment of continuous form for the said issuance slip. With this effort, we can now lessen the expenses for the needed requirements and channeling the funds intended to a more effective activity moreso, this program will be accessible anywhere, anyplace and anytime with just an internet connection anyone can view their personal financial information.
As the technological paradigm constantly affects our way of life it is inevitable that our existing delivery of services cannot be affected, we are now living in a rapid state of technological advancement and there is only one alternative that is to adopt with the many changes it will provide. As the saying goes "there is no permanent thing in this world only change" what is today's trend might not be applicable for tomorrow's settings. As we sail on towards our goal of improving our system for the benefits of all concern we will be adopting measures which will be beneficial and practical as it is more convenient to our clientele with more improved security features. Our experience in the Pension Cleansing Operation is our guide to look for better system in safeguarding pension funds from unscrupulous and dishonest individuals who are also constantly searching for flaws to conduct their immoral acts. As custodian of government funds we are entrusted of safeguarding government money ensuring that it will be disburse correctly and accurately. As this Center moves towards the future and gear up for more challenges, rest assured that we shall innovate to provide better services for our Civilian Employees, Technical Service Personnel and AFP Pensioners together with their Love-ones.